Growing up on the hills around Stroud, I spent most of my childhood helping on my grandparents' dairy farm where I developed a love for the outdoors, the environment and an appreciation of how important and interconnected ecosystems are.
A large part of my life has been involved in the scouts, and I eventually became an Explorer Scout leader, running a unit in Amberly near Nailsworth.
After school I did an engineering apprenticeship, and I have worked for the same engineering firm for 22 years. During that time, I also owned a canvas printing business in Gloucester and Bristol with my friend Tom and received a BSc Hons degree in Mechanical Engineering at the University of South Wales.
I have been interested in opening a zero-waste shop since I moved to Bristol 4 years ago. I was already a customer at Zero Green when Lidia and Stacey decided to move on, and I am excited to have this once in a lifetime opportunity to do something that I believe in.
In my spare time I can often be found in one of Bristol's climbing centres, walking up a mountain somewhere or swimming in the sea.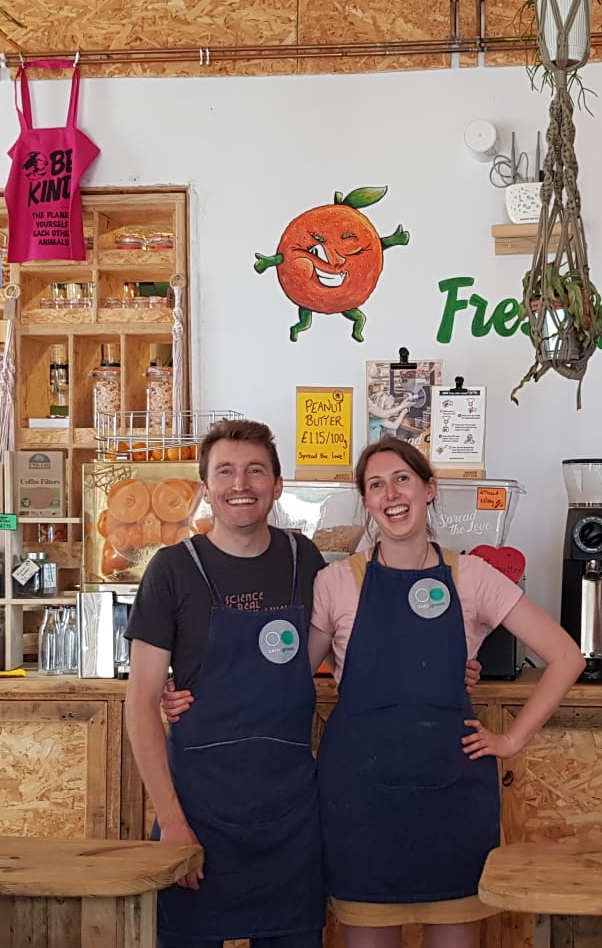 I grew up on Anglesey in North Wales, a place which has amazing coastlines and views over the mountains…but as a teenager I didn't appreciate them nearly enough! When I was 16 I went to study in Canada for two years, at a college with a great environmental focus. The school was based by the ocean, and sparked an interest in marine biology which I then went on to study at Newcastle University.
In the years that I was studying (2011-2014), the impact of plastic pollution on the environment (particularly microbeads) was really starting to grab people's attention. Since then, some fantastic alternatives have come to the market, and waste-free shops have started spreading across the country, but single-use plastic is still a massive issue. We're feel so lucky to be taking over Zero Green, which was one of the pioneering shops helping people choose to refill rather than buy things in plastic packaging.
I've had a varied career, working for a science museum, an engineering company and a sustainable bank. But I've always had an interest in nature, wildlife and the outdoors. Rob and I met at the climbing wall, and in our spare time we enjoy walking and camping, particularly along the Cotswold way and on Dartmoor. I also love cooking and inventing new recipes to use up random ingredients and avoid food waste.
Zero Green was started by Lidia Rueda Losada and Stacey Fordham in March 2018. Previously, the pair worked together at the National Trust. The vision of Zero Green was born over countless cups of tea and slices of cake on their breaks at work. Lidia and Stacey wanted to build a career that not only provided them with a living, but conformed with their values. Zero Green was created to help people in Bristol choose low-waste, low-impact lifestyle.